Kansas experts teach wildland fire management in Armenia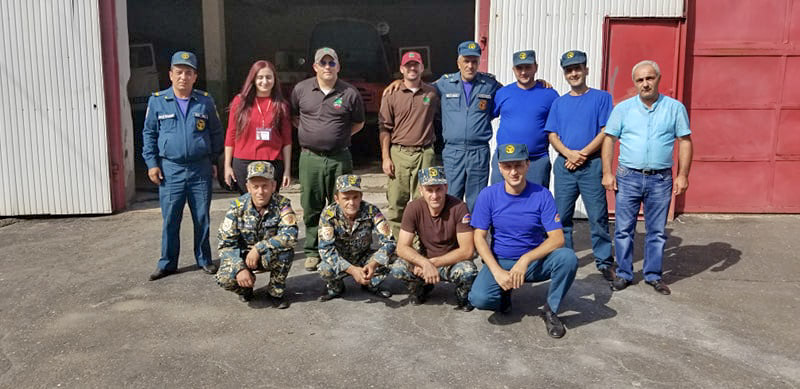 September 12, 2018

At right: Jason Hartman, Fire Protection Specialist, and Rodney Redinger, Fire Training Specialist, spent eight days traveling across Armenia to train firefighters in the former Soviet republic country.
Cultural exchanges between countries add insight and improve skills – and for firefighters, they offer new ways to save lives and property.
Two Kansas Forest Service Fire Management staff members traveled to Armenia to deliver the U.S. National Firefighting Training curriculum. KFS partnered with the Kansas National Guard in the National Guard Bureau's State Partnership Program to deliver the training. The program focuses on training through peer-exchange experiences.
The training is designed to equip firefighters with the knowledge and practical skills to combat wildland fires.
Jason Hartman, fire protection specialist, and Rodney Redinger, fire training specialist, spent eight days traveling across Armenia to train firefighters in the former Soviet republic country.
The effects of wildland fires are felt around the world. In countries with less-developed fire protection services, those effects are felt even more deeply.
"The training is very challenging, but also very rewarding," said Hartman.
Hartman and Redinger conducted all seven trainings through an interpreter because none of the firefighters spoke English.
In addition to the language barrier, the system of firefighting is different in Armenia.
Firefighters there are all employees of the federal Ministry of Emergency Situations.
Additionally, fire stations are only located in the more populated areas and those units provide protection and rescue to the surrounding rural communities.
"Our concept of rural volunteer fire protection has been really curious to them and a topic of many questions and discussions," said Hartman.
The practices and tools used by the Armenian firefighters were also of interest to the KFS specialists who plan to replicate a custom-built tool to use in firefighting.
The success of the program shows that despite the vast differences in language, culture and systems for managing fire, firefighters bond through a shared dedication of service to people.