Prescribed Fire Management for Obtaining Your Natural Resource Objectives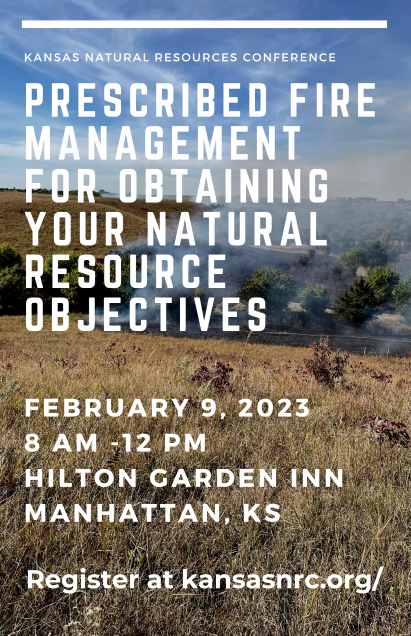 Full conference attendance is not required to attend this pre-conference session. Register Here
About the Session
Did you know that prescribed fire can help you meet your natural resource goals in more ecosystems than grassland? Kansas Forest Service will provide an introductory training of prescribed fire and its benefits to land management at the Kansas Natural Resources Conference. This training is for professionals, landowners, and managers in setting basic management goals, writing prescribed burn plans, and when to do the prescribed burn. Other topics will be specific to protecting structures and desirable trees, controlling noxious weeds and undesirable trees, issues that arise without prescribed burning and the history of forests in Kansas. Both instructors have experience in natural resources management, over 48 years of fire management service, and enjoy lively trainings and discussions.
About the Speakers
Mark Neely is the State Fire Management Officer with the Kansas Forest Service. Before joining the agency, he worked 18 years with the Department of Army at Fort Riley in Natural Resource management as an agronomist, fish and wildlife technician, forester, and fire manager. His program covers wildland fire management throughout Kansas, to include suppression, training, mitigation, prevention, and education. His biggest concern for Wildland Fire Management program is the changes in wildfire intensity and occurrences, the expanding wildland urban interface, and the lack of prescribed fire.
Dennis Carlson worked as a Rural District Forester in South Central Kansas for 21 years before joining the Wildland Fire Management program in 2019. His duties include working with the Kansas Prescribed Burn Council, building community wildfire resiliency, promoting prescribed fire, and training firefighters. His biggest natural resources concern for Kansas includes the changing landscape due to development in the wildland urban Interface, increasing populations of undesirable shrub and tree species in the rangelands and woodlands, and the increasing wildfire risk to Kansans.
About the Agency
The Kansas Forest Service, successor to the Kansas Commissioner of Forestry Office, is the Nation's fifth oldest state forestry agency. Created by legislative act in 1887, the Agency celebrates its anniversary every year on March 10th. The Agency serves rural landowners, communities, rural fire districts, forest and arboriculture industries, and citizens of the state through its Conservation Tree and Shrub Planting, Fire Management, Community Forestry, Rural Forestry, Marketing and Utilization, and Forest Health programs. The Kansas Forest Service state office is in Manhattan, KS, just off the campus of Kansas State University. The Kansas Forest Service is housed as an independent agency within K-State Research and Extension.