One Woman, her Chainsaw and a Brush Cutter
Wood-worker Debra McDaniels
is an ambitious woman who loves a challenge.
After spending 20 years as a nurse, she saw a need to restore the health of her woodlot. She removed the invasive species and replanted the woodland with oak and walnut, then started her own business,
Log-to-Bench
, where she creates masterpieces from locally harvested wood.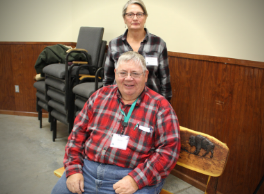 This Honey Locust bench with Lichtenberg fracture and Buffalo plaque was donated by Debra McDaniels. It auctioned to the highest bidder with proceeds donated to Kansas Forestry Association at the KFS Fall Field Day.
When she isn't busy logging, milling and transforming hand-hewn lumber into rustic benches and other art pieces, she is an active member of local forestry organizations serving on the boards of the Kansas Forestry Association and the Walnut Council.
Her session, entitled One Woman, her Chainsaw and a Brush Cutter, will teach attendees

how to manage their woodland for profitability, longevity, water quality, wildlife habitat, and aesthetics.
"Ninety-five percent of Kansas rural forests are privately owned and most of these have been untended," explained Debra. "The 5.2 million acres of Kansas trees are primarily found in windbreaks, along waterways, in fence rows, and in communities. Partnering with local organizations, agencies, and through programs, these can be a valuable resource to any landowner."
Landowners who have woodlands or who are interested in planting a woodland or tree farm on their property would benefit from this session.