Tuttle Creek Landowner Survey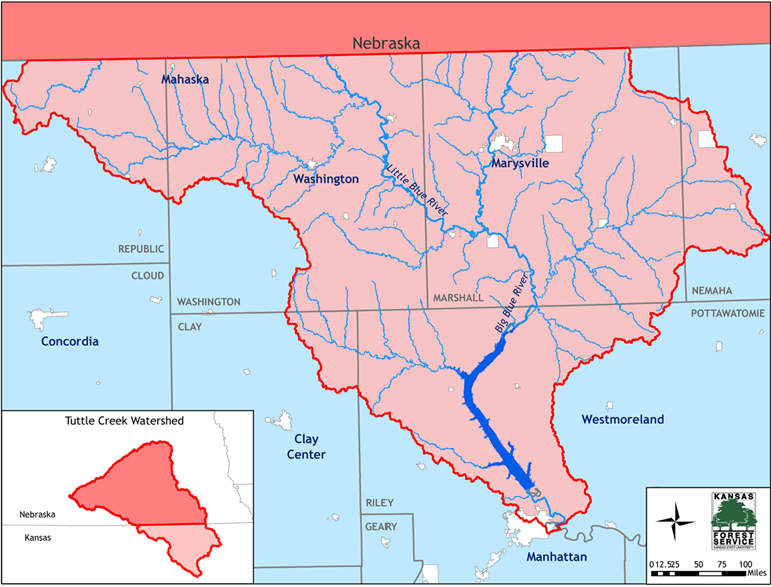 In the winter of 2014, a series of mailings were sent to Kansas landowners in the Tuttle Creek Reservoir drainage area asking about preferences for and against the presence of trees along a creek and/or river on their property. This was the result of a joint research project between Kansas State University and the University of Missouri examining/investigating the opinions of landowners for and against streamside trees located next to their crop fields. Often, trees are promoted in these areas because of their environmental benefits such as water quality and quantity, yet there are numerous factors that landowners must consider before adopting this practice.
So... What did landowners say? A variety of responses were provided, but four main points seemed to stand out:
Additional Trends
Interest exists in riparian forest buffers
Wildlife can be motivating
Strong conservation ethic and legacy desire
Results of this survey provided valuable information that can be used to help guide future conservation efforts for these areas and by incorporating landowner preference, it is hoped that these type of practices become more appealing for respective owners.
More details about the landowner survey can be found below. The authors of this study would again like to express their appreciation to all of the individuals who took the time to participate in this project.
- Survey Questionnaire
- Survey Item Responses
- Summary Publication
- Final Publication

Acknowledgements
Kansas Forest Service
Funding Partners (Grant #2013-3041)

Kansas Department of Health and Enviroment;

Watershed Management Section

Kansas Forest Service
Tuttle Creek Watershed Testoration and Protection Stategy (WRAPS)

Survey Assistance

Landowners
Local Agency Employees;

Natural Resources Conservation Service
Kansas State University Research and Extention
Country Conservation Districts