Eric Ward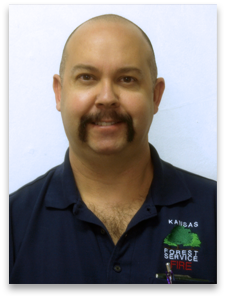 Assistant Fire Management Officer
Eric Ward joined Kansas Forest Service in January 2005. He is a Manhattan native who has been active in the emergency services since 1983. Eric received an A.A.S. in Fire Science Technology from Pikes Peak Community College in 2001, and B.S. in Management and Ethics from Manhattan Christian College in 2002. He has served on two different fire departments as a firefighter, training officer, lieutenant, battalion chief and recently retired after serving 20 years as chief of Blue Township Fire-Rescue outside Manhattan. That position has served well in preparation for his position at KFS.
For several years, Eric's primary focus was evaluating the current resources, challenges, and needs of the fire service within a county. Data from each unit for all participating departments within a county was collected and evaluated, from that data, a master plan is written to address both general goals and recommendations.
In 2011, Eric took over management of the Federal Excess Personal Property and Firefighter Property programs, providing excess government property for fire department use. Eric screens for trucks, fire equipment and other items for use by fire departments, and issues them at little or no cost to the receiving department. He also oversees the Equipment Donation Program, which facilitates the donation of surplus equipment to Kansas fire departments in need.
Professionally, Eric holds a Red Card as a Task Force Leader, Medical Unit Leader, Incident Commander Type 3, Faller 2, and Structural-Firefighter II. He has served as guest faculty at several state and regional training events and national conferences and has been published in several professional fire service and EMS journals. He is a graduate of multiple National Fire Academy courses, including four at the NFA's Emmitsburg, MD campus.
Eric has been involved in public safety service for his entire adult life and enjoys the opportunity to use his experience and skills helping more departments around Kansas with Kansas Forest Service.
2610 Claflin Road
Manhattan, KS 66502
Email: eward@ksu.edu
Phone: 785-532-3307
Fax: 785-532-3305