Consultants & Contractors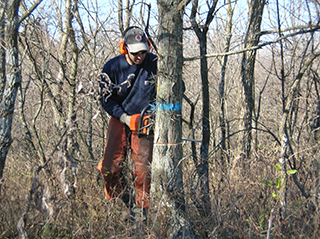 Kansas Forest Service maintains lists of forestry consultants and contractors that are available to provide a variety of fee-based forestry services.
The Kansas Forest Service does not promote or endorse any particular Consulting Forester or Forestry Contractor, and provides these lists as a service to the people of Kansas. Consulting Foresters are invited to contact Ryan Armbrust to be added to the list. Forestry Contractors may update their information or request being added to the list by filling out this form.
Consulting Foresters
Consulting foresters are professional foresters who provide a variety of services to landowners on a fee basis. They are experienced in providing competent forest management advice and gathering technical information that will stand up in a court of law. Consulting fees will vary depending upon individual circumstances. Services that consulting foresters may offer include advice on marketing timber, inventorying forests to establish depletion accounts, tax and estate services related to forestlands, and tree appraisals associated with damage or timber theft that may require legal counsel.
The below list of Consulting Foresters is made up of foresters who have a degree in forestry and have graduated from a University accredited by the Society of American Foresters.
John E. Barbur, CF
Tree Health and Forest Management, LLC

5821 Edwards Court
Wichita, KS 67204

785-263-5792
john.e.barbur@gmail.com

Kevin Church, PhD
Tallgrass Custom Wood Products

1367 Rd. 205
Emporia, KS 66801

620-343-0944
tallgrasswood@gmail.com
www.tallgrasswood.com

Marty Hewins

PO Box 64
Wathena, KS 66090

785-989-3429
913-370-0173

Chris Lohmann, CF, ACF
Heartland Forest Consulting, LLC

301 Salinda Dr.
Ashland, MO 65010

lohmann.chris@gmail.com
www.hlforest.com

Ron Lumb

Ron Lumb's TLC
1913 Olive
St. Joseph, MO 64507

816-364-5922

Ryan Neises
Ecotone Forestry, LLC

PO Box 339
Ottawa, KS 66067

785-241-9007
ryan@ecotoneforestry.com

Willard Schnurbusch
Schnurbusch Land Services, Inc.

6522 Co. Rd. 2570
West Plains, MO 65775

417-256-2464
wilschnur@townsqr.com

Phil Sneed, ACF
Blackwell Creek Forestry

14435 LIV 251
Chillicothe, MO 64601

(660) 973-2714
phil@blackwellcreekforestry.com
www.blackwellcreekforestry.com

David Stokesberry
Southeast Kansas Forestry Services

PO Box 512
Coffeyville, KS 67337

620-515-2165

Jeremy Wilson
Quality Forest Management, LLC

733 Stanton Ave.
Monroe City, MO 63456

573-248-7713
jwilson@qfmllc.com
www.qfmllc.com
Forestry Contractors
Forestry Contractors may also include some of the same people listed as Forestry Consultants, however, not all of these people have degrees in forestry. The Forestry Contractors list includes a broad range of people who provide tree planting, timber stand improvement and windbreak renovation services. Their experience and knowledge varies and should be affirmed by checking references.
The forestry contractors list below includes people with limited to extensive forestry knowledge and experience. Always use a professional, experienced or SAF certified forester to mark trees for thinning or to design tree plantings. KFS foresters and consulting foresters are available to mark trees and design tree plantings. An asterisk beside a contractor indicates they have had training from the KFS.
Name/Address
Contact
Area of Coverage
Services Provided

Bauman's Pasture Maintenance
Joseph & Thaddeus Bauman*
27190 NW Arkansas Rd.
Westphalia, KS 66093

(785) 489-2416
Within one hour of Westphalia
Custom shearing & piling, brush mowing, fencing--dirt or rock, clearing, portable sawmill
B-K Tree Service
David Brandyberry*
9461 Rd. W
Lenora, KS 67645
(785) 567-4628
bbark@ruraltel.net
The High Plains
Site preparation, machine tree & shrub planting, fabric & drip irrigation installation, follow up maintenance & windbreak renovation
Betts Enterprises
Jacob Betts
(620) 252-5253
Eastern half of Kansas
Timber harvest and timber stand improvement
Blackwell Creek Forestry
Phil Sneed, ACF*
14435 LIV 251
Chillicothe, MO 64601
(660) 973-2714
phil@blackwellcreekforestry.com
www.blackwellcreekforestry.com
Eastern half of Kansas
Forest management plans, timber sale administration, prescribed burning, TSI, timber tax advice, wildlife management, timber trespass advice
Ben Bowers
Hillsboro, KS
(808) 359-8808
akmototech@hotmail.com
Statewide
Timber Stand Improvement
Complete Ranching Outsource LLC
Tyler Galyen
(217) 202-5585
completeranching@hotmail.com
Statewide
Pasture clearing, prescribed burning, fencing, timber stand improvement
Jeff Cooper
Salina, KS
(785) 650-8168
jjcooper2000@hotmail.com
www.legacylandcare.com
Statewide
Pasture clearing, timber stand improvement, windbreak renovation, brush clearing, site preparation, food plots
Custom Forestry Applications
Luke Terry*
2284 250th St.
Robinson, KS 66532
(785) 547-7777
nek.forestry@hotmail.com
Northeast quarter of Kansas
Timber stand improvement, hand tree planting, machine and tree & shrub planting, riparian forestry management, herbicide application
Custom Tree Care, Inc.
Greg Gathers
6021 SW 29th St., PMB 130
Topeka, KS 66614
(785) 221-7550
www.customtreecare.com
Northeast KS
(Statewide depending on size of job)
Land clearing, forestry mulching, and tree cutting
John Dagley
PO Box 4721
Joplin, MO 64803
(417) 437-3873
(417) 624-2867
Cherokee County
Tree planting services
Ecotone Forestry, LLC
Ryan Neises*
P.O. Box 339
Ottawa, KS 66067
(785) 241-9007
ryan@ecotoneforestry.com
Eastern third of Kansas
Tree planting, direct seeding, timber stand improvement, herbicide application, timber marketing, wildlife habitat improvement
Henry Ferguson
23457 Ullery
LaCygne, KS 66060
(913) 406-5146
Linn County and surrounding areas
Salvage, harvest and timber stand improvement services
Hawley Lumber Co.
George Hawley
2770 Florida Rd.
Elsmore, KS 66749
(620) 473-3468
(620) 365-9744
hawleylumber@gmail.com
100 mile radius of Elsmore,KS
Timber stand improvement
Heartland Forest Consulting, LLC
Chris Lohmann, CF, ACF
301 Salinda Dr.
Ashland, MO 65010
(573) 825-8252
lohmann.chris@gmail.com
www.hlforest.com
Eastern third of Kansas
Timber stand improvement, wildlife habitat improvement, management planning, invasive species control, herbicide application
High Plains Habitat
Gary Shaw
Hoxie, KS
(785) 675-1208
highplainshabitat@gmail.com
Statewide
Tree mulching, tree removal, pasture clearing
Independent Forestry Services
Leonard Ellis*
528 N. Barker
Florence, KS 66851
(620) 878-4357
(620) 203-0731 (cell)
Statewide
Timber stand improvement & reforestation
Lee Green
2423 10000 Rd
Oswego, KS 67356
(620) 762-2533
l-jgreen@wavewls.com
SE KS
Timber stand improvement & tree planting
Pasture Clearing Solutions
Brad Klenda
1671 300th
Lincolnville, KS 66858
(620) 382-6947
pastureclearingsolutions@gmail.com
Statewide
Forestry mulching, underbrushing, traditional saw and grapple, stump grinding, brush mowing
Quality Forest Management
Jeremy Wilson*
733 Stanton Ave.
Monroe City, MO 63456
(573) 248-7713 (cell)
(573) 735-7558 (home)
treemanwilson@msn.com
www.qfmllc.com
Eastern half of Kansas
Tree planting, timber stand improvement, timber harvest, planning, wildlife habitat improvement, prescribed burning
Richardson Tree Service
Marcus Richardson*
8200 E Pleasant Valley Road
Haven, KS 67543
(620) 727-1267
richardsontreesvc@gmail.com
www.richardsontreesvc.com
South-central Kansas
Windbreak renovation, windbreak establishment, tree plantings, community tree inventories, rural and urban tree care, biochar production and application, wastewood utilization
Nathan Schippers
(785) 623-7554
Ellis, Trego, Rush, Russell, and Rooks counties
Tree/shrub plantings, windbreak establishments, weed barrier fabric installation
Shamrock Tree Service, Inc.
Dan Timms


PO Box 4655

Lawrence, KS 66046

(785) 865-4160

shamrocktreeserviceinc@gmail.com

www.shamrocktreeserviceinc.net

Statewide

All non-mechanical: treeplanting, hand/browse protection, riparian forest buffer tree planting bare root, forest stand improvement single stem, windbreak renovation supplemental planting BR

Matt Smith
(785) 713-9088
Marshall and Washington counties
Forest Stand Improvement
Southeast Kansas Forestry Services
David Stokesberry
PO Box 512
Coffeyville, KS 67337
(620) 515-2165
Eastern half of Kansas
Forest management plans, timber stand improvement, timber harvesting, streamside management zones, tree planting, herbicide application, timber taxation advise, other services as requested
Southside Lumber Co.
805 Rice Rd.
Butler, MO 64730
(660) 679-6129
southsidelumber@gmail.com
East Central Kansas
Timber stand improvement with tree saw machine & marking timber for harvest & logging
Taylor Johnson Furniture Co.
Taylor Johnson
11947 SW 50th
Towanda, KS 67144
(316) 619-0144
taylorcjohnson22@gmail.com
Butler, Greenwood, Marion, Chase, and Elk counties
TSI work, tree to table custom furniture, timber framing
Third Fork Land Management
Mark Humphrey
8671 NW Bowen Rd
King City, MO 64463
(660) 535-4940
(816) 752-2270
markahumphrey21@gmail.com
mid-northeastern Kansas
tree planting, timber stand improvement, timber sales

Thompson Land Clearing, LLC
Mike Thompson
7227 NW 46th St
Topeka, KS 66618

(785) 458-8464


mike@thompsonlandclearing.com

www.thompsonlandclearing.com

NE Kansas

Forestry Mulching, Land Clearing, Lot Clearing, Access Trails, Fence Line Clearing

Tree Health & Forest Management, LLC
John E. Barbur, CF*
5821 Edwards Court
Wichita, KS 67204
(785) 263-5792
South-central Kansas
Forest management plans, timber sale marking/appraisal/administration, timber inventory, timber stand improvement marking, urban forest inventory and planning
Triple C Pasture Cleaning
Cole Sorell
(785) 632-6060
(785) 955-2211
Statewide
Trim trees, Fence Lines & Spray to Prevent Regrowth
Tom Maly Planting
Tom Maly
HC 70 Box 561
Jasper, AR 72641
(870) 861-5524
terandtom@yahoo.com
Southeast quadrant
Hand planting of trees and shrubs
Twister Mud Company
Taylor Dehlinger
PO Box 191
Eureka, KS 67045
(316) 323-5317
Statewide
Brush management, pasture clearing, timber stand improvement, cedar tree revetment, other services as requested
Wycoff Tree Planting
Todd Wycoff
(620) 546-3799
Central Kansas or statewide for larger projects
Tree planting and weed barrier fabric installation