Rural Forestry Program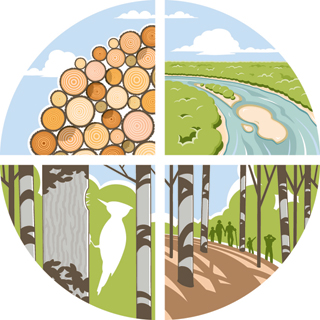 The goal of the Rural Forestry Program is the protection, management and sustainability of forests, woodlands and agroforestry resources (windbreaks and riparian forest buffers) in the rural landscapes of Kansas. The Rural Forestry Program is guided by the Kansas Forest Action Plan which identifies natural resource issues, opportunities, strategies and priority areas to accomplish program goals.
The Program
Our program encourages farmers, ranchers, and other landowners to actively manage and protect the forests, woodlands and agroforestry resources on their property for wildlife, recreational, aesthetic, water quality, soil conservation and forest product benefits. Participating in the Rural Forestry Program connects landowners with professional foresters who provide a variety of services and on-site visits to help landowners identify and accomplish the natural resource management objectives for their property.
There are eight Kansas Forest Service district foresters who provide one-on-one services in large multi-county districts (7 to 23 counties per district) in a variety programs in addition to Rural Forestry. For this reason, foresters are always prioritizing requests and it sometimes takes several weeks to visit a property. However, most landowners find the services provided worth the wait.
Our Clients
95% of the 3.8 million acres of Kansas forests, woodlands and windbreaks are privately owned. Our program targets services and education toward private landowners and the natural resource agencies and organizations that support the management of private lands.
Provided Services
This program also connects participants with peer to peer networks of non-governmental, not-for-profit, forest and woodland management organizations like the Kansas Forestry Association. The Kansas Forestry Association serves as the "umbrella organization" for the Kansas Tree Farm Program, Kansas Chapter of the Walnut Council and the State Forest Stewardship Coordinating Committee combining leadership of the groups into a single Board of Directors which advises the Rural Forestry Program.
The USDA Forest Service, State and Private Forestry, provides most of the program funding through the Forest Stewardship Program. Forest Stewardship Management Plans are long-term, comprehensive plans that Kansas Forest Service foresters prepare for private landowners as one of the services offered through the Forest Stewardship Program.
The Natural Resource Conservation Service is another important program partner that funds the preparation and implementation of forestry and agroforestry practice plans through Kansas Forest Service foresters. These practice plans guide the implementation of hundreds of tree plantings, forest stand improvement and windbreak renovation projects each year.
Annual Events
The Rural Forestry Program offers educational opportunities through workshops, field days and a variety of publications. The Agroforestry Field Day, the Walnut Council Field Day and the Fall Forestry Field Day are annual educational events that are well attended by private landowners and natural resource professionals. The Kansas Forestry Association also assists the Kansas Forest Service with a Landowner Recognition Program that presents an annual Kansas Agroforestry Award and Outstanding Forest Stewardship Landowner Award to landowners who do an exemplary job managing their forest and agroforestry resources. Visit our event page for information about upcoming events and activities.