Kansas Arbor Day Poster Contest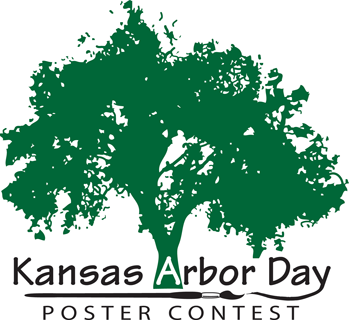 The Kansas Arbor Day Poster Contest is an artistic competition open to public, private and home-schooled fifth-graders across the state that strives to increase an appreciation and awareness of the important role that trees play in our quality of life, communities, ecosystems and our state. To affirm this message, this year's poster contest theme is
We All Need Kansas Trees for Resilient Ecosystems!
The lesson plan, available below, offers a ready-to-use curriculum that supports several Kansas College and Career Ready Standards for science and multiple crosscutting concepts. The lesson plan provides classroom content and hands-on learning opportunities for exploration that teach students how to identify differences between trees, why biodiversity is important to wildlife and people and how to properly select and place trees.
More than 1,000 Kansas students participate at the local level with six district-winning posters competing for the state prize. The state winner, their family, teacher and principal are invited to the Kansas Tree City USA Recognition Day in the spring where they are recognized for their achievement. A request is made each year for the state winner and their family to meet the Governor of Kansas. State and district winners, their teachers and schools also receive substantial recognition packages for their efforts.
The Kansas Arbor Day Poster Contest and its efforts are possible due to the partnership of these organizational and industry partners – Evergy, ITC, Kansas Arborists Association, Kansas Nursery and Landscape Association, Kansas Association for Conservation and Environmental Education and the Kansas Forest Service.