Ryan Armbrust
Rural Forestry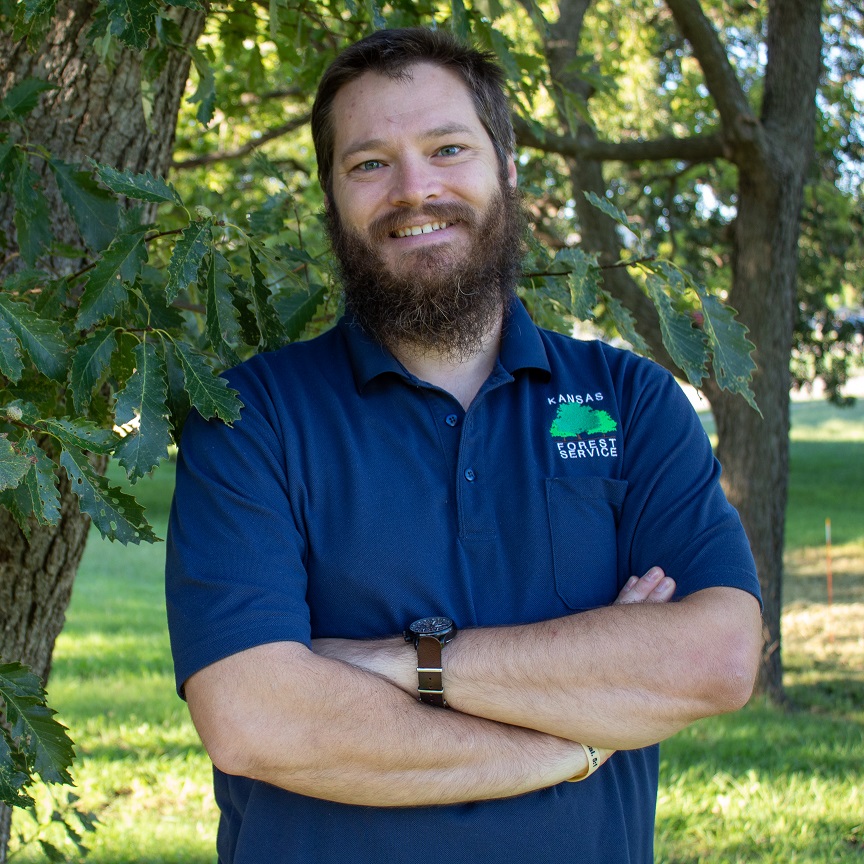 Ryan Armbrust is the Rural Forestry Program Coordinator for the Kansas Forest Service. He has oversight over the state's implemention of the Forest Stewardship and Forest Legacy programs, in addition to supervising the district foresters and staff within the Rural Forestry Program.
After completing his undergraduate degree in Horticulture Plant Science at the University of Nebraska, he became a native plant propagator and collector at the Nebraska Statewide Arboretum, a program of the Nebraska Forest Service. While working with the "Great Plants for the Great Plains" program at the Arboretum, Ryan had the opportunity to work in many different Great Plains ecosystems, collecting seed from unique prairie and forest sources to grow and plant within affiliated arboreta and botanical gardens in Nebraska.
In 2013, Ryan moved to Kansas to pursue graduate studies in Forestry at Kansas State University. He concurrently took a position with the Kansas Forest Service, where he headed the agency's Forest Health program until 2022, when he was selected to lead the Rural Forestry Program.
Over the years, Ryan has worked closely with propagation of native plant material with the Conservation Seedling program, written mulitple grants, and coordinated with partners to preserve and enhance the functionality of urban and rural forests in Kansas. He has also concentrated on strategies to slow the spread of Emerald Ash Borer, efforts to reduce the risk of Thousand Cankers Disease of Black Walnut, promotion of urban wood utilization, advocacy for community tree diversity, and strategies to control the spread of invasive Asian Bush Honeysuckle, Callery Pear, Tamarisk, and other invasive plants.
Other research includes production of male ("seedless") eastern redcedar seedlings, assessing overlooked native plant species for conservation, and production of conservation plant material from regionally appropriate and well-adapted native seed sources. Ryan completed his MS in 2020, and his research can be found in the K-REx database here.
Ryan also coordinates the Kansas Forest Service UAS (drone) committee, and works closely with the KFS Fire program to bring UAS support to prescribed and wildland fire activities in Kansas.
In recent years, Ryan has had the opportunity to serve in national leadership in the Society of American Foresters, the Great Plains Society of American Foresters, co-chair the Western Forestry Leadership Coalition Competitive Grants Team, and has been active in the multi-state Great Plains Tree Pest Council.
Ryan lives in the wonderful Flint Hills community of Alta Vista (population 450) with his wife Laura and their sons Henry and Kresten. He serves as Mayor, chairs the local tree board, enjoys serving in leadership in several ministries in church, spends most of his free time renovating his old house, and wishes he had more time to hunt, fish, and camp.
2610 Claflin Road
Manhattan, KS 66502
Email: rarmbrust@ksu.edu
Phone: 785-477-6413
FAA Remote Pilot Certificate: 4172010
Kansas Commercial Pesticide Applicator: 24568 (Categories: 1D, 2, 3A, 10)
NWCG: READ, REAF, FFT1(t), FAL3, UASP(t), ABRO (t)
Tree Farm Inspector: 243308