Black Cherry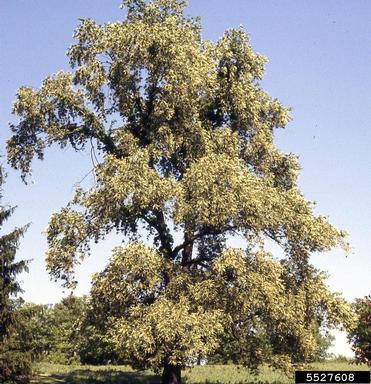 Native Range
Prunus serotina is native to the eastern third of Kansas.
Mature Size
The height can reach 50 to 80 feet, with 30-50 feet crown spread.
Growth Rate
The growth rate is fast at 2-4 feet a year.

Leaves, Stems and Fruit

Use
Wildlife - White flowers in April/ May yield to small cherries that ripen in late summer. Attractive to pollinators, birds, and wildlife suitable for human use in jams.
Fuelwood - Multistemmed habit and fast growth rate combined with high fuel value make this a desirable species for inclusion in a woodlot.
Timber - This is the kind of tree that cherry furniture is made from. Hard, reddish wood is a valued wood product for making furniture, instruments, ect.

Adaptation and Soil
Black cherry grows most commonly near lowlands, and thrives in somewhat moist, but well-drained soils. Tolerant of coarser soils, but not of especially mucky clay. Will tolerate some drought once established.
Spacing
Space the trees 15 to 20 feet apart for timber production. Periodic thinnings assist in high-quality wood production.

Culture
One to two-year-old, bare-root seedlings produced from stratified seed are used in plantings. Seedlings are 12-24 inches tall. Successful plantings require that a proper site is selected, the soil is thoroughly prepared and good weed and grass control is practiced.
Pests
No serious insect or disease problems. Miscellaneous fungal diseases can occur on leaves, and aphids, scale, and Japanese beetles will eat leaves. These usually do not seriously affect the health of the tree.
Soil Information
| | |
| --- | --- |
| Average Height in 20 Yrs: | |
| -Eastern | 26-30 ft. |
| -Central | Not Suitable |
| -Western | Not Suitable |
| Growth Rate: | Fast |
| Native Species: | Native to Kansas |
| Windbreak Value: | Low |
| Wildlife Value: | Medium |
| Lumber Products: | Yes |
| Fuelwood Products: | Yes |
| Drought Tolerance: | Medium |
| Texture: | 2,3 |
| Soil Saturation: | No Tolerance |
| Salinity Tolerance: | No Tolerance |
| pH Range: | 5-7.5 |