Black Walnut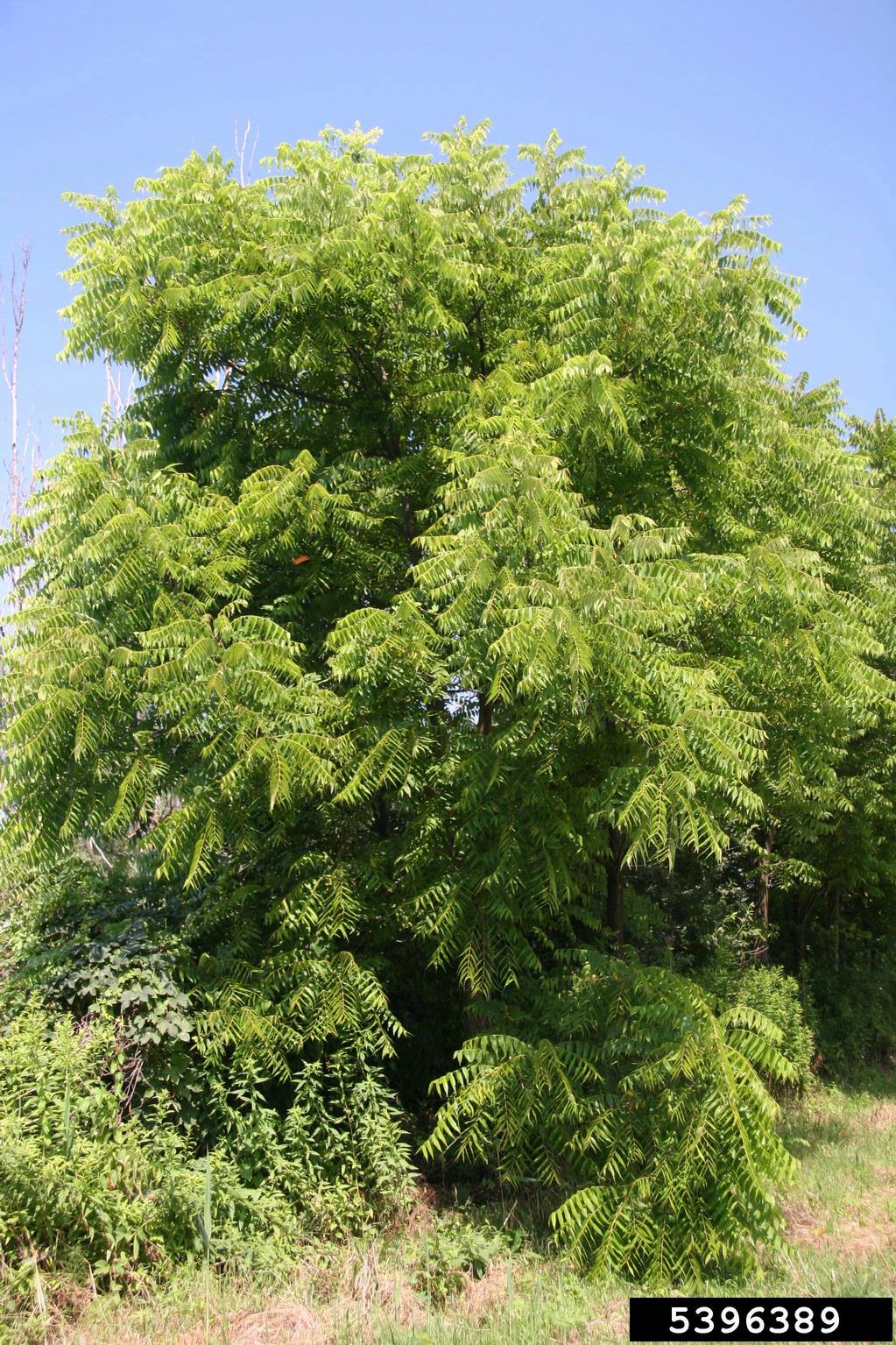 Juglans nigra, or Black walnut, is native to the eastern one-half of Kansas. It reaches a height of 70 to 90 feet and spread of 30 to 40 feet. This tree grows about 2 to 3 feet per year.
Leaves, Stems and Fruit
Leaves are compound, alternately arranged on the stem and range from 12 to 24 inches long with 13 to 23 leaflets. The leaflets are 3 to 5 inches long, 1 to 1 1/2 inches wide. They are rounded at the base, tapering to a sharp point at the tip and are paired except at the tip of the leaf. When crushed, the leaves give off a pungent odor. Flowering occurs in May and June. Fruit is a large round nut covered by a husk ripening in September or October. Bark varies in color from brownish to brownish-gray on young stems to a dark chocolate brown at maturity.

Use
Timber - Walnut is the premier timber species in eastern Kansas. The wood is used in making high quality furniture, cabinets, veneers, paneling, gun stocks and novelties.
Human Food - The nut meat has a delicious flavor and is highly prized for its food value. It is used in candies, ice cream, cookies, etc.
Wildlife - The nut serves as an important food source for squirrels as well as other wildlife species.
Firewood - Black walnut's moderate growth rate and heat value, along with ease of splitting, makes it worth considering for use in firewood plantations.

Adaptation and Soil
Black walnut has adapted statewide and grows best on deep, fertile, well-drained, bottomland soils. On upland sites, growth often is greatly restricted and isn't adequate for timber production, but may be adequate for wildlife habitat.

Spacing
Spacing for timber, fuelwood and nut plantings may vary from 8 x 8 feet to 15 x 15 feet. Periodic thinnings during the life of the stand are used to reduce the number of trees for maximum productivity.

Culture
One-year-old, bare-root seedlings, 12 to 18 inches tall or stratified nuts (those that have undergone cold treatment) are used in plantings. Successful plantings require that a proper site is selected, the soil is thoroughly prepared and good weed and grass control is practiced. Stratified walnut seed may be planted instead of seedlings if adequate protection from rodents is provided. Squirrels have been known to eat an entire field of recently planted nuts if not protected. It is best to plant at least two nuts at each planting spot to ensure proper stocking rate. The soil must not dry until the new roots are well established.

Pests
Walnut has very few major insect enemies. The most serious is the walnut caterpillar. Trees defoliated by heavy infestations may suffer loss of growth but are seldom killed. Disease is not a major concern in walnut plantings on good sites. However, on poor sites or on damaged trees, walnuts may be subject to canker. It is susceptible to some chemicals commonly used on Kansas crops.
Soil Information
| | |
| --- | --- |
| Average Height in 20 Yrs: | |
| -Eastern | 26-28 ft. |
| -Central | 24-26 ft. |
| -Western | 18-22 ft. |
| Growth Rate: | Medium |
| Native Species: | Native to Kansas |
| Windbreak Value: | High |
| Wildlife Value: | High |
| Lumber Products: | Yes |
| Fuelwood Products: | Yes |
| Drought Tolerance: | Medium |
| Texture: | 2 |
| Soil Saturation: | No Tolerance |
| Salinity Tolerance: | No Tolerance |
| pH Range: | 5.5-7.5 |