Chinkapin Oak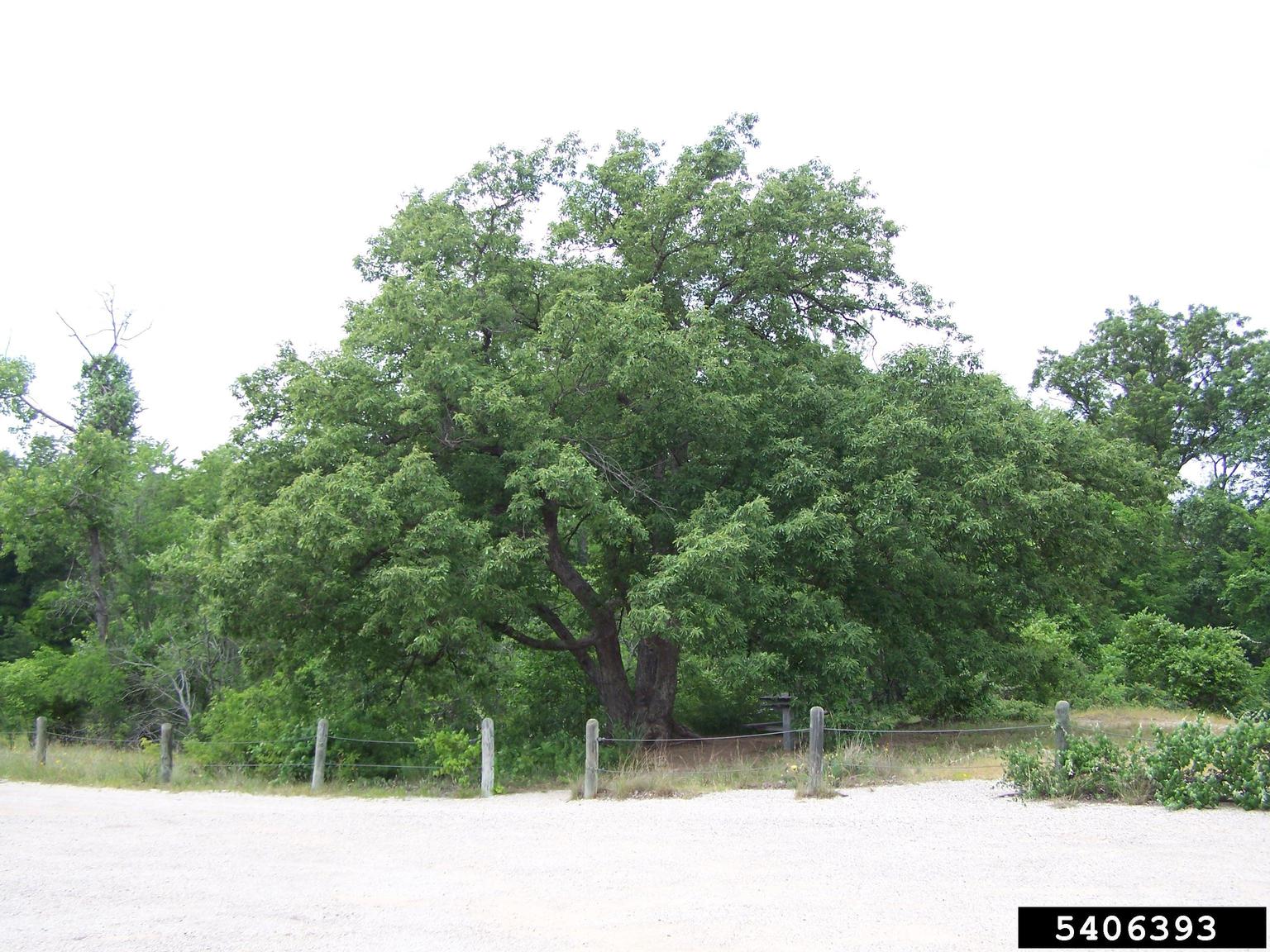 Quercus muehlenbergii, or Chinkapin oak, is native to much of the Eastern United States and as far west as Central Kansas and Southwest Texas. In Kansas, it occurs mainly on limestone soils, rocky riverbanks, and usually on higher ground than Bur oak. Occurrence and abundance of Chinkapin oak appear to be related to soil reaction and texture. It grows best on medium acid to moderately alkaline, well drained soils.
Mature Size
It is a moderate size tree, usually irregular in form. Generally it develops a low spreading crown with low branches. Mature height is 30 to 60 feet and spread is 20 to 40 feet.

Leaves, Stems, and Fruit
The leaves are simple and alternately arranged on the twigs. They are elliptic (or widest slightly above the middle), 2 to 4 inches long and 1 1/2 to 3 inches wide. The leaf margins have 8 to 14 rounded or pointed, coarse teeth on each side. Twigs are slender and stiff with greenish-brown, orange-brown, or grayish bark. Trunk bark is light gray or ash-color with shallow furrows and short, flaky ridges. Flowers appear in early May. Male and female flowers are on the same tree. Acorns ripen in September. The 1/2 inch long fruit is enclosed about 1/4 to 1/2 by the cap. The fruit is sweet and edible.
Uses
Wildlife Habitat - The sweet acorns are used by a variety of birds and animals.
Windbreaks - Chinkapin oak is useful as a moderate size tree in windbreaks. Due to its intolerance to shade, it should be given ample space to grow when planted next to fast growing trees.
Timber - Although usually not planted for lumber production, in native stands its logs may be sold as white oak.

Adaptation and Soil
Like most trees Chinkapin oak grows best on deep, well-drained, fertile soils, but will grow on dry limestone bluffs and hillsides. It does not like poorly drained soils. Chinkapin oak has adapted to Central and Eastern Kansas.
Culture
One-year-old, bare-root seedlings, 12 to 18 inches tall are used in conservation plantings. They will require good weed control for at least 3 years. In-row spacing in a multi-row windbreak or wildlife planting should be about 8 to 15 feet.
Pests
Few known major insects or disease problems exist with this tree.
Soil Information
| | |
| --- | --- |
| Average Height in 20 Yrs: | |
| -Eastern | 24-28 ft. |
| -Central | 22-26 ft. |
| -Western | Not Suitable |
| Growth Rate: | Medium |
| Native Species: | Native to Kansas |
| Windbreak Value: | Medium |
| Wildlife Value: | High |
| Lumber Products: | Yes |
| Fuelwood Products: | Yes |
| Drought Tolerance: | High |
| Texture: | 2 |
| Soil Saturation: | No Tolerance |
| Salinity Tolerance: | No Tolerance |
| pH Range: | 6.5-8 |