Eastern Redbud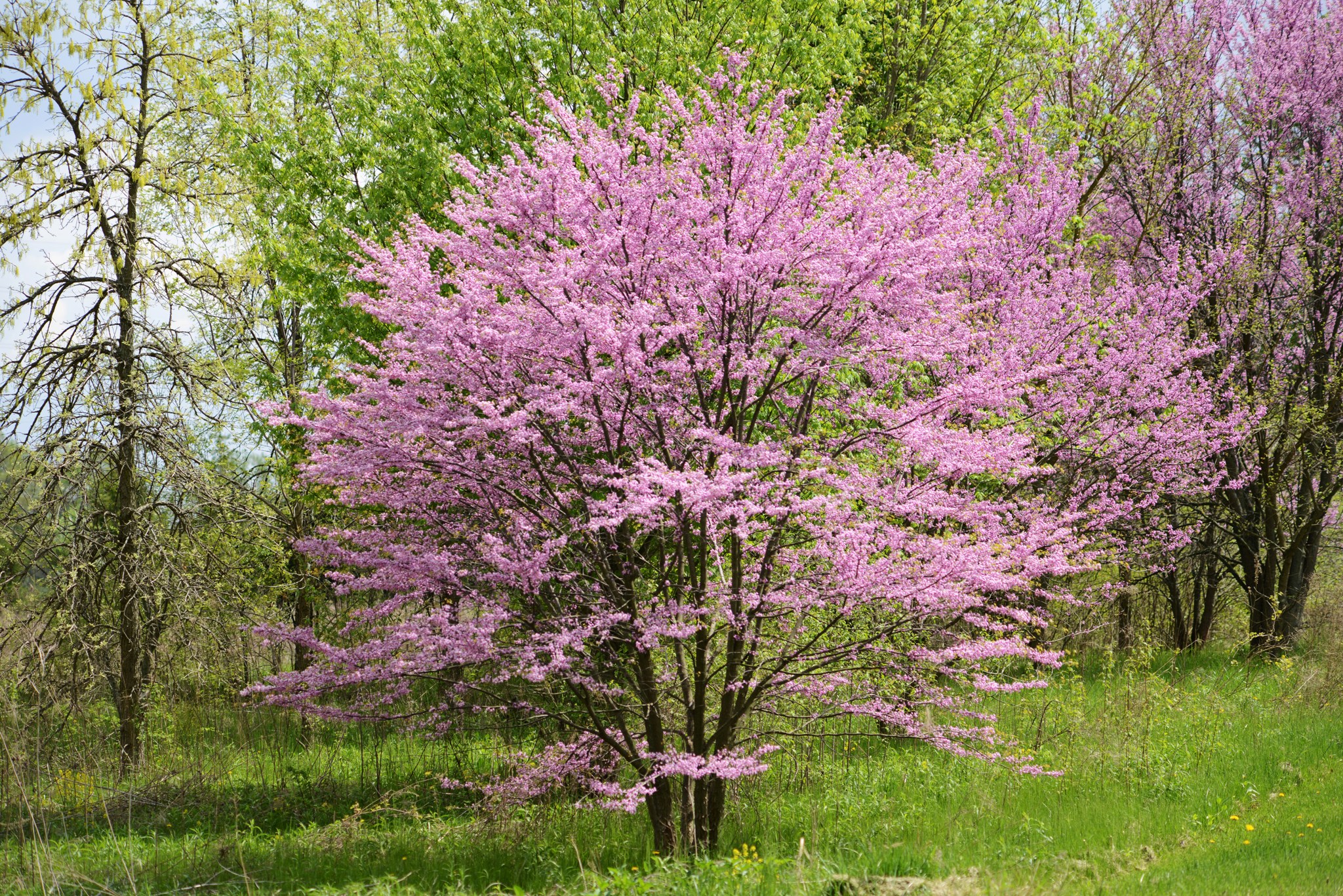 Cercis canadensis, or Redbud, is native to the eastern third of Kansas.
Mature Size
It is a small flat-topped tree reaching a height of 10 to 20 feet with a crown of 15 to 20 feet. Redbud can grow about 12 to 18 inches per year.
Growth Rate
Moderate

Leaves, Stems and Fruit
Redbud is easily recognized in the spring by it profusion of bright pink flowers. The dark green, heart-shaped leaves are simple and borne alternately on the stem .They range from 2 '/2 to 5 inches in length and width and have smooth edges. The bark on young trees is reddish but turns darker with age and forms loose thin scales. Both male and female flowers are borne on the same tree. The fruit is a 2 ¼ inch long bean-like pod.

Uses
Windbreaks -Redbud may be used as exterior rows in a multi-row windbreak especially on the leeward side.
It adds spring color as well as low level wind protection.

Adaptation and Soil
Eastern two-thirds of Kansas. It is a member of the legume family and is often found growing along streams on rich soil or on rocky hillsides bordering streams. It can tolerate a moderate amount of shade. Redbud has the ability to grow in a wide variety of soil conditions, but like most plants, will grow best on good fertile soils.
Spacing
In row spacing in windbreak plantings varies from 8 to 12 feet and between row spacing is 12 to 18 feet.
Culture
One year old, bare-root seedlings, 12 to 18 inches tall are used in plantings. Good initial survival and growth can be expected with proper weed control.

Pests
A variety of leaf feeding insects may attack redbud but generally do not cause major problems. Borers may attack older trees. Diseases normally are not a problem. Redbud is quick to show cupping or distortion of leaves when exposed to even low levels of phenoxy hebicides, but they don't usually suffer serious damage to such exposure.
Soil Information
| | |
| --- | --- |
| Average Height in 20 Yrs: | |
| -Eastern | 14-18 ft. |
| -Central | 10-14 ft. |
| -Western | 7-10 ft. |
| Growth Rate: | Medium |
| Native Species: | Native to Kansas |
| Windbreak Value: | Medium |
| Wildlife Value: | Medium |
| Lumber Products: | No |
| Fuelwood Products: | No |
| Drought Tolerance: | Medium |
| Texture: | 1,2 |
| Soil Saturation: | No Tolerance |
| Salinity Tolerance: | No Tolerance |
| pH Range: | 4.5-7.5 |