Northern Red Oak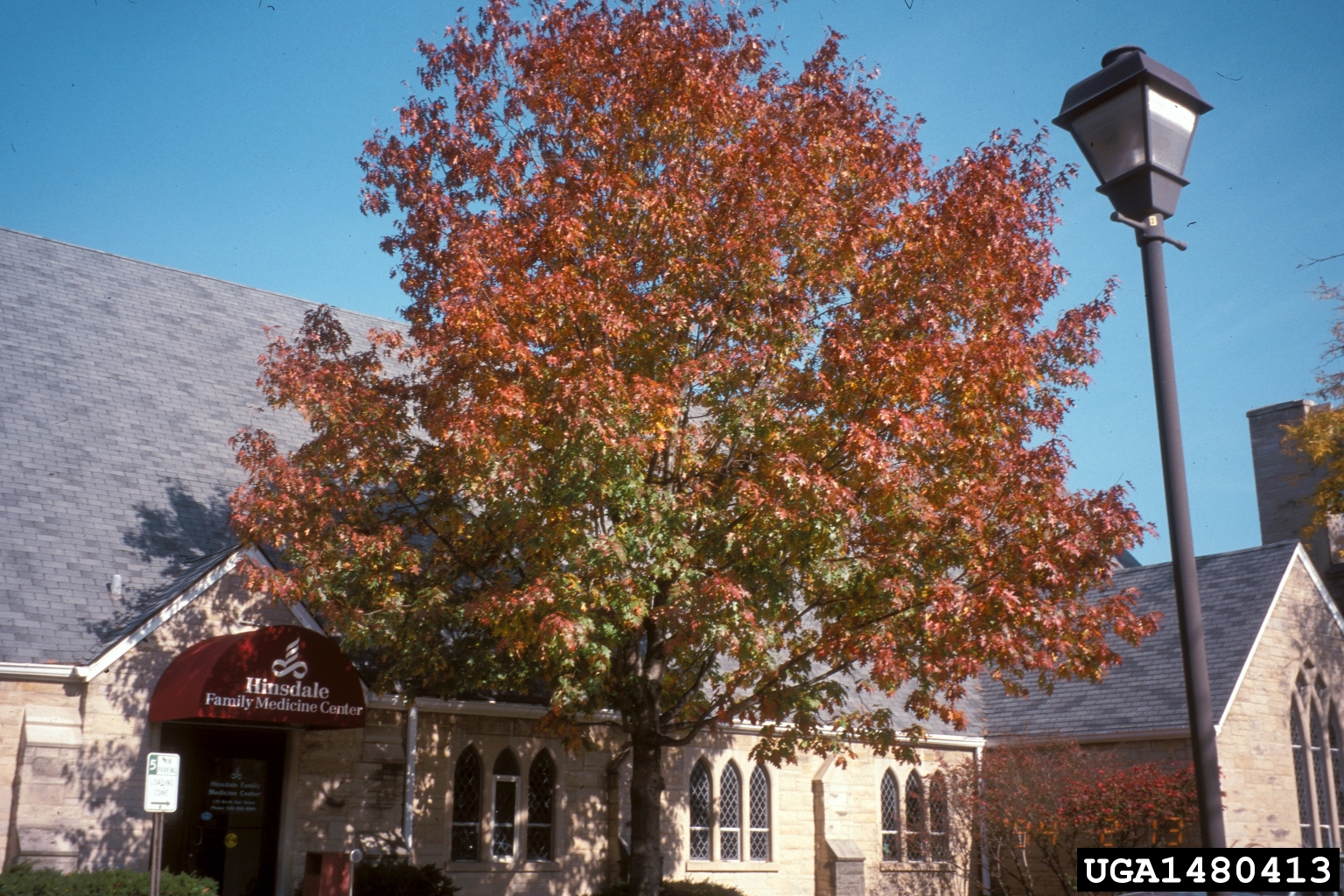 Quercus rubra, or Northern red oak, is native to most of the eastern United States including the eastern third of Kansas. It is a large tree reaching a height of 50 to 75 feet and spread of 40 to 60 feet. Its growth rate is moderate.

Leaves, Stems and Fruit
The dark green leaves are simple and alternately arranged on the twig. The tapered lobes may extend half way to the middle of the leaf. Fall color is red-orange. The one inch long acorn matures in October of the second year. A shallow cup curved in at the top with dark edges on the scales encloses about 1/4 of the nut. The bark remains smooth and steel gray to gray-brown of the young branches for several years. Only with age does the main stem develop dark reddish brown to black bark with shallow fissures in broad flat ridges.

Use
Windbreaks - Northern red oak is useful as the large tree component of windbreaks. It can also be used in single-row windbreaks.
Timber - The wood from this tree is used for furniture and interior finish.
Wildlife - Acorns of this tree are eaten by squirrels, deer, turkey and probably many other birds and animals.

Adaptation and Soil
Northern red oak has adapted statewide and grows along streams, on flood plains and hillsides bordering streams; and it grows in soils ranging from clay to loamy sands, and from deep, stone-free to shallow, rocky soils. Northern red oak grows best on fertile soils, but will grow on a broad range of soils with adequate moisture. It is moderately drought tolerant once established.

Spacing
Normally spacing is 8 to 18 feet.

Culture
One-year-old, bare-root seedlings, 12 to 18 inches tall are used in conservation plantings. They require good weed control for at least 3 years. Seedling growth often responds to supplemental watering.
Soil Information
| | |
| --- | --- |
| Average Height in 20 Yrs: | |
| -Eastern | 60-75 ft. |
| -Central | 55-70 ft |
| -Western | Not Suitable |
| Growth Rate: | Medium |
| Native Species: | Native to Kansas |
| Windbreak Value: | Medium |
| Wildlife Value: | High |
| Lumber Products: | Yes |
| Fuelwood Products: | Yes |
| Drought Tolerance: | Medium |
| Texture: | 1,2 |
| Soil Saturation: | Medium Tolerance |
| Salinity Tolerance: | No Tolerance |
| pH Range: | 4.5-6.5 |