Persimmon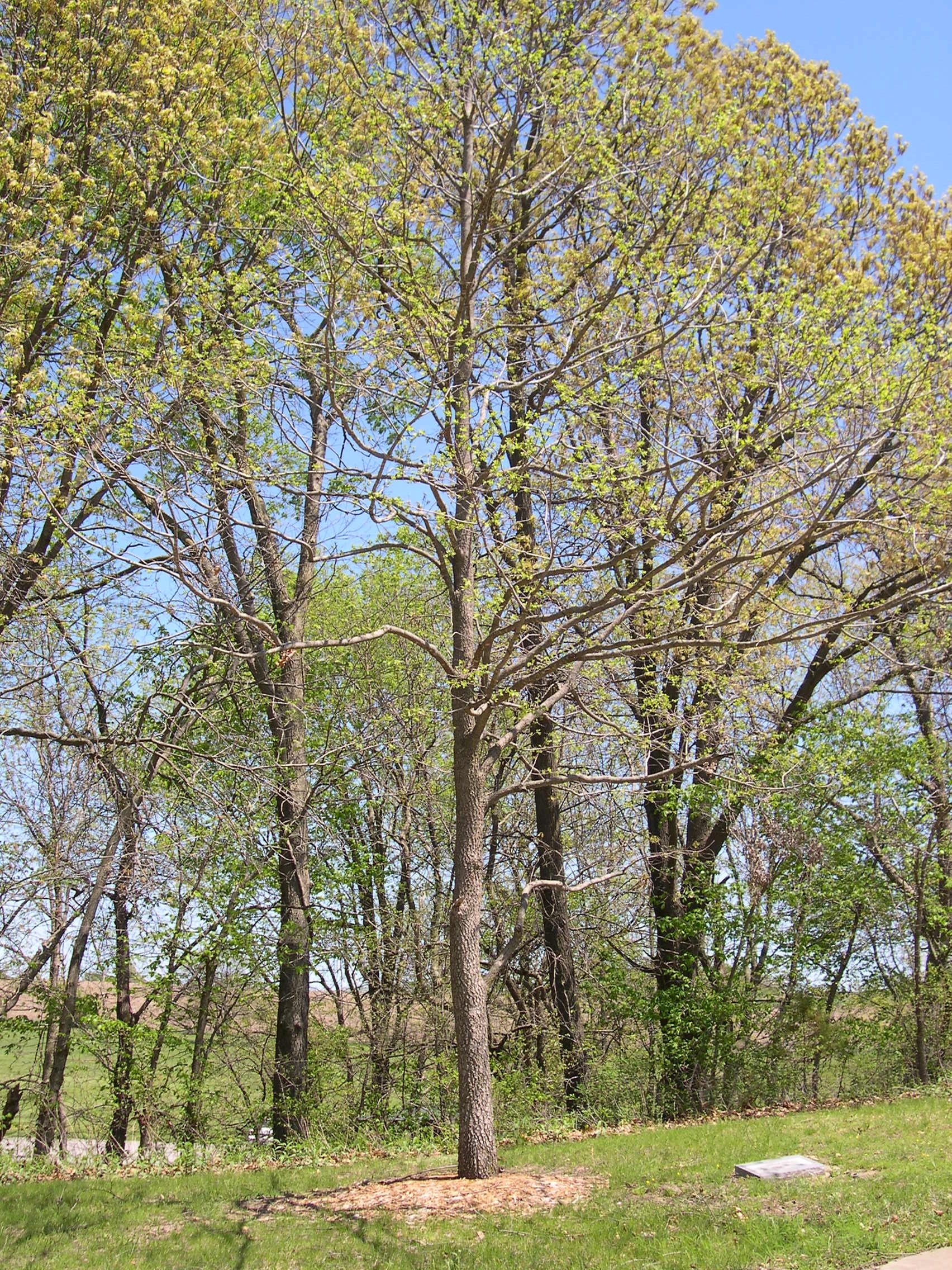 Diospyros virginiana, or Persimmon, is native to southeastern Kansas and grows naturally in open areas on rocky hillsides or in alluvial soils. Heights may reach 60 feet but are typically 20 to 30 tall. It is best known for its fruit that are a favorite of wildlife and are also used for human consumption. Persimmon trees are either male or female and cannot self-pollinate. Only the female trees bear fruit.

Leaves, Stems and Fruit
Leaves are simple, alternate, 2 to 6 inches long, and 1 to 3 inches wide. They are ovate to elliptical and are shiny green. The bark is brown to dark grey and is very deeply furrowed giving it a distinct blocky appearance. The fruit matures in September to October and is orange in color and soft when ripe. They are about 1 to 2 inches long and round.

Use
Wildlife Habitat - Excellent wildlife tree. Animals of varying species love the fruit and finding fruit for human consumption may be difficult because of animal competition.
Human Consumption - The fruit has a very sweet taste that some say mimic the taste of dates. It can be eaten raw or made into pies, puddings, cookies and other deserts.

Adaptation and Soil
Persimmon does best in either alluvial soils or on drier upland sites that receive adequate moisture. It is limited to the eastern one-third to possibly the eastern one-half of Kansas.

Spacing
Space seedlings about 10 to 20 feet apart.

Culture
One-year-old, bare-root seedlings 18 to 24inches tall are used in conservation plantings. They will develop faster with good weed and grass control.

Pests
Few disease and insect problems. Rabbits and deer may be a problem as is common with any hardwood species.
Soil Information
| | |
| --- | --- |
| Average Height in 20 Yrs: | |
| -Eastern | 20-25 ft. |
| -Central | Not Suitable |
| -Western | Not Suitable |
| Growth Rate: | Medium |
| Native Species: | Native to Kansas |
| Windbreak Value: | High |
| Wildlife Value: | High |
| Lumber Products: | Yes |
| Fuelwood Products: | Yes |
| Drought Tolerance: | Medium |
| Texture: | 1,2,3 |
| Soil Saturation: | No Tolerance |
| Salinity Tolerance: | Low Tolerance |
| pH Range: | 4-7 |