Silver Maple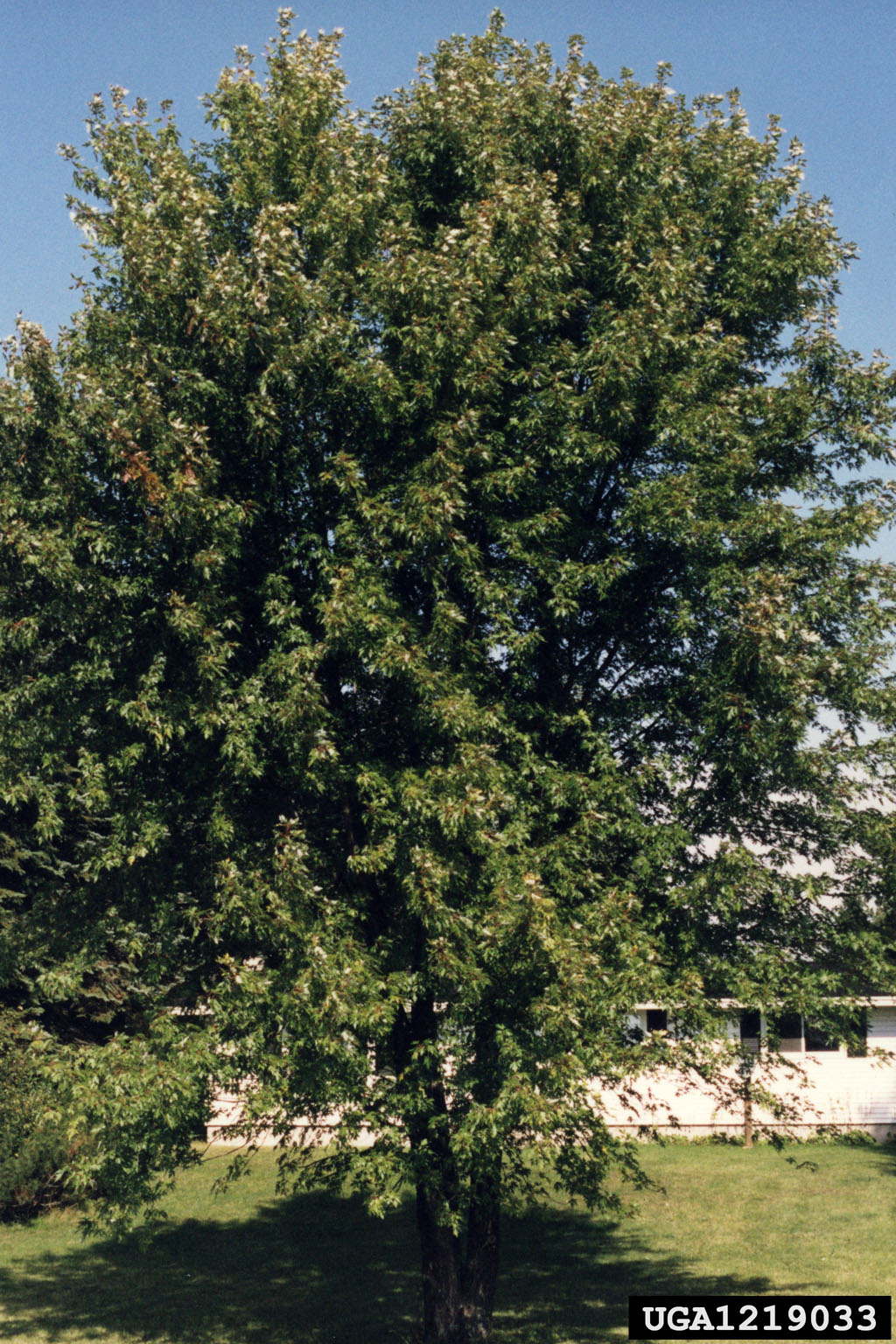 Acer saccharinum, or Silver maple, is native to the eastern half of the United States and eastern one-half of Kansas. It is a tall, fast-growing tree found on the bottomlands reaching a mature height of 70 to 80 feet and a crown spread of 50 to 60 feet.

Leaves, Stems and Fruit
Leaves are simple, opposite each other on the stem, 4 to 7 inches long with fine deep lobes and sharp teeth along the edge. They are light green above and a light silvery green below. Flowers appear in early spring. The seed is winged, produced in pairs and attached to the stem by a long slender stalk. Bark of mature trees has a red-brown to gray appearance that flakes off with age.

Use
Windbreaks - Silver maple is a good windbreak tree on fertile, moist sites. Because of its large size, it usually is used for interior rows.
Fuel wood - Silver maple grows to harvestable firewood size in a short period of time in eastern Kansas. The wood is easy to handle and produces a moderate heat output. It sprouts vigorously from the cut stump for future wood production.
Timber - Silver maple can be grown for timber products. It is routinely harvested and used for furniture, paneling and pallets.

Adaptation and Soil
Silver maple has adapted statewide and grows best on moist bottomland soils. Iron chlorosis, resulting from a lack of available iron in the soil, limits the use of Silver maple in western Kansas.

Spacing
In fuelwood and timber plantings, spacing may vary from 6 x 10 feet to 15 x 15 feet.

Culture
One-year-old, bare root seedlings, 18 to 24 inches tall are used in plantings. Survival and initial growth are dependent upon good site preparation and weed control.

Pests
Insect and disease infestations on Silver maple are generally not a serious problem.
Soil Information
| | |
| --- | --- |
| Average Height in 20 Yrs: | |
| -Eastern | 36-38 ft. |
| -Central | 32-36 ft. |
| -Western | Not Suitable |
| Growth Rate: | Fast |
| Native Species: | Native to Kansas |
| Windbreak Value: | Medium |
| Wildlife Value: | Medium |
| Lumber Products: | Yes |
| Fuelwood Products: | Yes |
| Drought Tolerance: | Medium |
| Texture: | 1,2,3 |
| Soil Saturation: | High Tolerance |
| Salinity Tolerance: | Low Tolerance |
| pH Range: | 4-6.5 |