Fragrant Sumac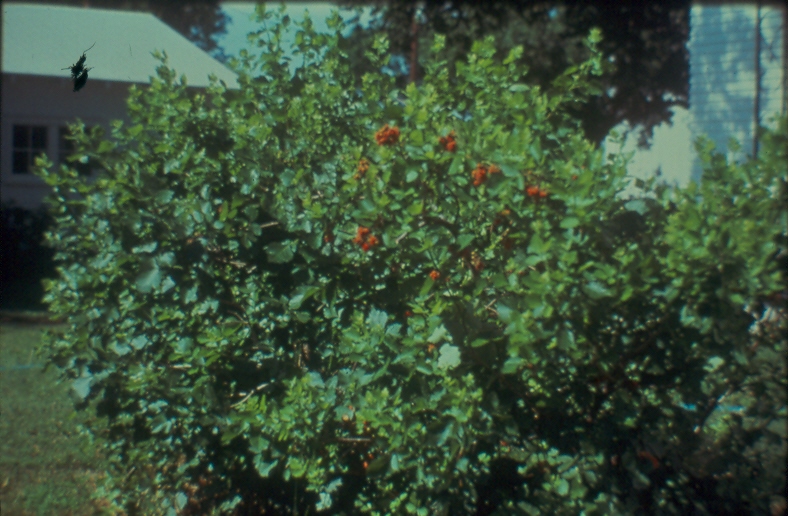 Rhus aromatica, or Fragrant sumac, is native to most of Kansas.
Mature Size
It reaches a mature height of 3 to 8 feet and a spread of 6 to 8 feet. It is a common prairie plant, but not an aggressive invader. Another name for this shrub is Stinking bush, which reflects the pungent odor released from crushed leaves.
Growth Rate
It grows at about 12 to 18 inches per year.

Leaves, Stews and Fruit
Fragrant sumac leaves are arranged as 3 leaflets. The leaflets are egg-shaped and coarsely toothed. The foliage is green in summer and scarlet in fall. Small yellow flowers bloom in late March or early April. In late July, fruit matures as fuzzy, scarlet berries in dense, round clusters that persist through winter.

Use
Wildlife Habitat - Fragrant sumac provides quality nesting, roosting and loafing cover for a variety of songbirds and game birds. Its fruit may not be the first choice of many kinds of wildlife, which allows it to persist into mid-winter for emergency use when other sources of food are covered by snow. Its twigs and foliage provide good deer browse.
Windbreaks - When used as an exterior row in windbreaks, Fragrant sumac provides good ground level wind protection. Spring blossoms, summer and fall foliage and persisting fruit provide a year around attraction.

Adaptation and Soil
Fragrant sumac occurs naturally in limestone hills with as little as 12 inches precipitation. It tolerates fairly alkaline soils. Few shrubs are as tough as fragrant sumac.

Spacing
Fragrant sumac is spaced 3 to 4 feet apart.

Culture
One-year-old, bare-root seedlings are usually used in conservation plantings. Although clean cultivation will help survival and early growth, this shrub is more tolerant of competition than most. The Conservation Tree Planting Program provides Fragrant sumac from the Natural Resources Conservation Service Plant Material Center's release known as "Konza". Konza Fragrant sumac is from native plants on the Konza prairie south west of Manhattan, Kansas. It was selected because of its superior fruit production and outstanding plant vigor.

Pests
It has occasional pests, but none are considered serious.
Soil Information
| | |
| --- | --- |
| Average Height in 20 Yrs: | |
| -Eastern | 5-8 ft. |
| -Central | 5-8 ft. |
| -Western | 4-7 ft. |
| Growth Rate: | Medium |
| Native Species: | Native to Kansas |
| Windbreak Value: | High |
| Wildlife Value: | High |
| Lumber Products: | No |
| Fuelwood Products: | No |
| Drought Tolerance: | High |
| Texture: | 1,2,3 |
| Soil Saturation: | Low Tolerance |
| Salinity Tolerance: | Low Tolerance |
| pH Range: | 5-8 |