Eastern White Pine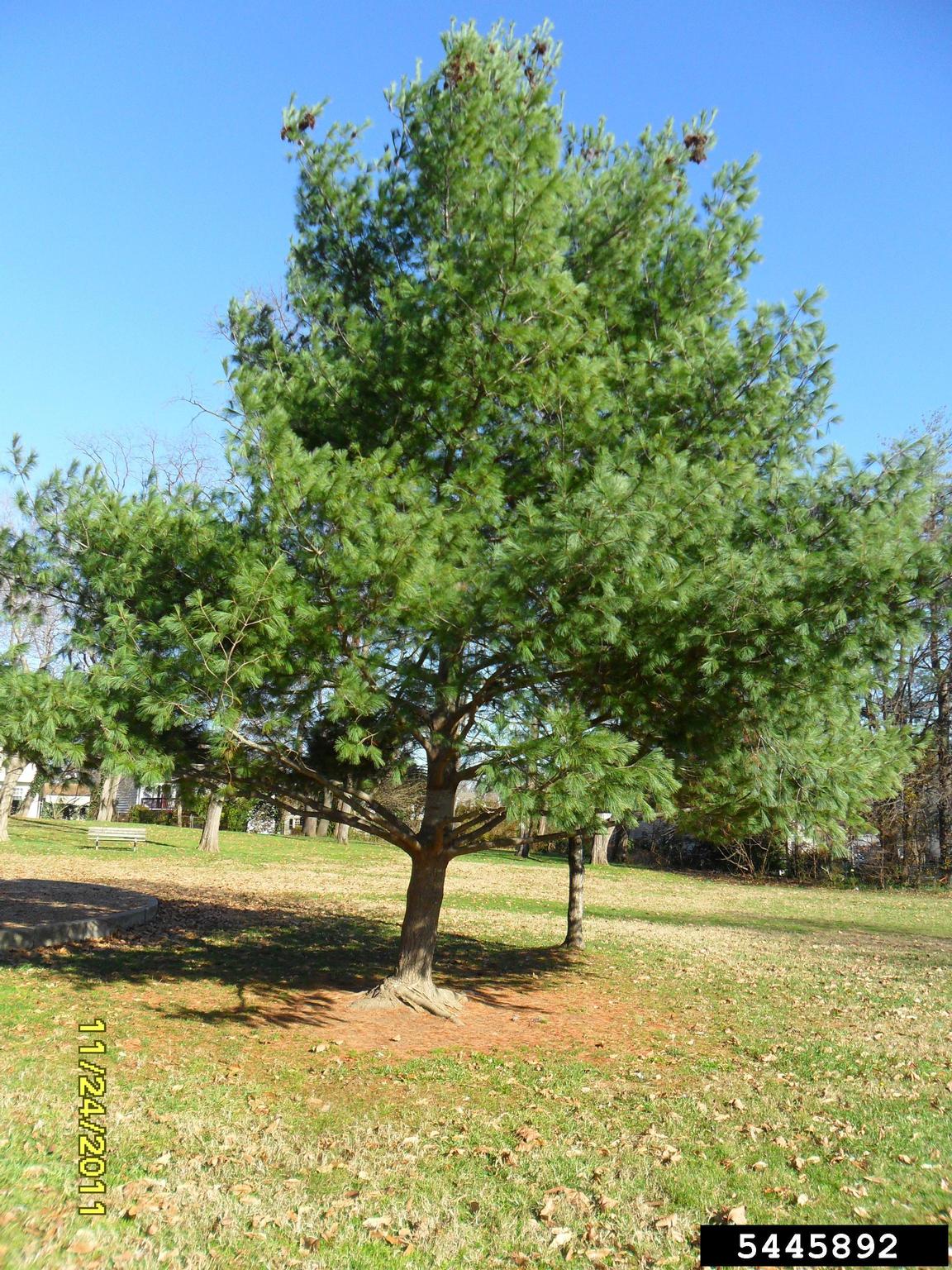 Pinus strobus, or Eastern white pine, is native to the lake states, the Northeast and the Appalachian Mountains. It reaches a mature height of 50 to 80 feet and a spread of 20 to 30 feet. In Kansas, it grows rapidly after the third year.

Leaves, Stems and Fruit
With its medium green to blue-green, soft, delicate appearing foliage, it is a very attractive tree. Young trees are symmetrical and pyramidal in shape. Older trees have several horizontal and ascending branches which are plum like in outline. White pine needles are soft, 3 to 5 inches long, persisting 2 or 3 years and in groups of 5. The resinous cones are 6 to 8 inches long and 2 to 2 1/2 inches wide.

Use
Christmas Trees - White pine Christmas trees command premium prices for their soft, delicate foliage. Some people, however, are critical of their (1) tendency to winter burn causing the foliage to turn brownish, (2) limber branches which may not support heavy ornaments and (3) lower survival rate as compared other species of pine. In spite of these problems, most growers who can, will grow some White pine in their plantation.

Windbreaks - Eastern white pine makes a beautiful windbreak. However, its use is limited by sensitivity to soil type, sparsity of foliage and susceptibility to ice breakage. It also is not very tolerant of direct exposure to the hot, dry, south winds during the summer. The disease problems other pines are suffering in Kansas makes this species worth considering, however.

Adaptation and Soil
Planting of Eastern white pine is recommended only for eastern Kansas. White pine seedlings are intolerant of prolonged periods of drought or wet soil and high temperatures. They need a cool, wind protected, moist, fertile, well-drained site.

Spacing
Normal spacing when planted as Christmas trees is 6 1/2 x 6 1/2 feet and 8 to 12 feet within rows and 12 to 18 feet between rows in windbreaks. They should be at least 20 to 24 feet from large, fast growing deciduous trees.

Culture
We use the southern Appalachian seed source for Eastern white pine for its form and winter color in the Conservation Tree Planting Program. Two- or three year-old, bare root seedlings (8 to 12 inches tall) are used in plantings. They are more sensitive and tend to have lower survival rate than other pines. Typically the seedlings grow very little in height until the third year. During this establishment period, supplemental watering and control of competing vegetation will aid survival and initial growth. Protection from summer winds will also help.
Soil Information
| | |
| --- | --- |
| Average Height in 20 Yrs: | |
| -Eastern | 30-34 ft. |
| -Central | Not Suitable |
| -Western | Not Suitable |
| Growth Rate: | Fast |
| Native Species: | Introduced to Kansas |
| Windbreak Value: | High |
| Wildlife Value: | Medium |
| Lumber Products: | Yes |
| Fuelwood Products: | No |
| Drought Tolerance: | Low |
| Texture: | 2 |
| Soil Saturation: | No Tolerance |
| Salinity Tolerance: | No Tolerance |
| pH Range: | 4-6.5 |